Giles Ramsay is an independent theatre producer, director and lecturer who specializes in creating new work with artists in developing countries.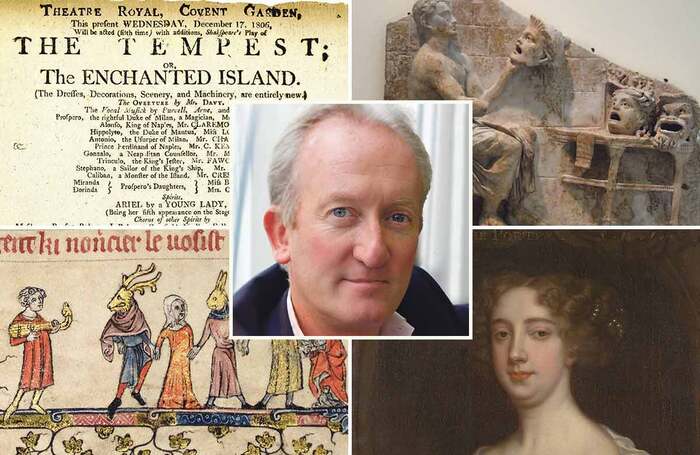 Joining the dots – meet the man telling 'the history of theatre in 12 lives'
Writer and producer Giles Ramsay has lectured on theatre's diverse history for two decades, and his new book picks out its key players. He tells Natasha Sutton Williams why German duke Georg II and playwright Aphra Behn were as vital as Shakespeare
www.thestage.co.uk
BURN MUKWEREKERE BURN by Blessing Hungwe
The National Theatre of Mannheim, Germany, June 2015
HIFA, Zimbabwe, May 2011 (Best Actor & Best Production – The National Arts Council of Zimbabwe)
THE MAIDS by Jean Genet
The Harare International Festival of the Arts (HIFA), Zimbabwe & British Council Tour, May 2014
LOOKING INTO THE ABYSS by Blessing Hungwe
HIFA, Zimbabwe & British Council Tour, May 2013
WHEN ANGELS WEEP by Blessing Hungwe
HIFA, Zimbabwe, May 2012 (Winner: Best Production)
THE RAINMAKER by N. Richard Nash
Northern Stage, USA, March 2011
SHOWCASE for the CulturArte Project
Island of Fogo, Cape Verde, September 2010
MARATHON by Eduardo Erba
HIFA, Zimbabwe, May 2010
OEDIPUS TYRANNUS by Sophocles (Zimbabwean adaptation by Giles Ramsay)
HIFA, Zimbabwe, May 2009
THE GLASS MENAGERIE by Tennessee Williams
Northern Stage, USA, March 2009
CROCODILE by Giles Ramsay
HIFA, Zimbabwe, May 2007
TERRITORY by Giles Ramsay, Victor Mavadzenge and Michael Kudakwashe
Harare, London & Edinburgh – May-August 2006
ONLY AS MULTIPLE adapted from the poetry of Fernando Pessoa by Giles Ramsay
Edinburgh – August 2004
Giles Ramsay is an independent theatre producer, director and lecturer who specializes in creating new work with artists in developing countries. He is the Founding Director of the charity Developing Artists, a former Fellow of St. Chad's College, Durham University and Course Leader in Theatre at The Victoria and Albert Museum in London. He is also an accredited Arts Society (formerly NADFAS) lecturer.
In 2021 Giles was appointed to the Readers' Advisory Panel of The Independent Press Standards Organisation which regulates the majority of the UK's newspapers and magazines.
Since 2004 Giles has worked with The Anglo-Mexican Foundation as a producer of MEXART which showcases the best theatre and dance from Mexico. In 2010 they co-produced the opera Montezuma at The King's Theatre in Edinburgh as part of The Edinburgh International Festival and in 2011 Monsters and Prodigies opened at The Brighton Festival. In November 2012 they presented the jazz band Paté de Fuá at The Belfast Festival and Ronnie Scott's Club in London.
He has previously produced international work at venues ranging from The Riverside Studios, The Theatre Museum, The British Museum, Artsdepot, Flowers East Gallery and The National Theatre in London as well as at The Pleasance Theatre, The Assembly Rooms and The King's and Traverse Theatres in Edinburgh.
In August 2013 he presented a Mexican production of Working on a Special Day at Assembly in Edinburgh and in 2016/17 his charity, Developing Artists, produced Queen's of Syria (Young Vic and UK tour) and And Here I Am (UK and Middle Eastern tour).
Giles was educated at the universities of Cambridge, London and Durham (where he was President of the Union). He also spent a year at the Royal Academy of Dramatic Arts as part of his MA in drama. After leaving university Giles led The British National Debate Team on its annual tour of America and he has been the recipient of both a Chautauqua and a Page Scholarship from The English Speaking Union as well as winning The Soho Theatre's Westminster Prize for new writing. Throughout the 1990s he was Director of Studies for Summer Schools in Drama at the University of Edinburgh.
Giles has run theatre projects in Botswana, Cape Verde, Equatorial Guinea, Kenya, Kosovo, Palestine, Mexico, Thailand and Zimbabwe. He has also organised many development and travel programmes for theatres affiliated with the North American Theatre Communications Group and given numerous talks for institutions ranging from The Foundation for Mexican Literature in Mexico City to The Royal College of Physicians in London. He regularly lectures on the history and practice of theatre on Cunard's Queen Mary 2 as it sails from New York to the UK.
BURN MUKWEREKERE BURN by Blessing Hungwe
The National Theatre of Mannheim, Germany, June 2015
HIFA, Zimbabwe, May 2011 (Best Actor & Best Production – The National Arts Council of Zimbabwe)
---
THE MAIDS by Jean Genet
The Harare International Festival of the Arts (HIFA), Zimbabwe & British Council Tour, May 2014
---
LOOKING INTO THE ABYSS by Blessing Hungwe
HIFA, Zimbabwe & British Council Tour, May 2013
---
WHEN ANGELS WEEP by Blessing Hungwe
HIFA, Zimbabwe, May 2012 (Winner: Best Production)
THE RAINMAKER by N. Richard Nash
Northern Stage, USA, March 2011
---
SHOWCASE for the CulturArte Project
Island of Fogo, Cape Verde, September 2010
---
MARATHON by Eduardo Erba
HIFA, Zimbabwe, May 2010
---
OEDIPUS TYRANNUS by Sophocles (Zimbabwean adaptation by Giles Ramsay)
HIFA, Zimbabwe, May 2009
THE GLASS MENAGERIE by Tennessee Williams
Northern Stage, USA, March 2009
---
CROCODILE by Giles Ramsay
HIFA, Zimbabwe, May 2007
---
TERRITORY by Giles Ramsay, Victor Mavadzenge and Michael Kudakwashe
Harare, London & Edinburgh – May-August 2006
---
ONLY AS MULTIPLE adapted from the poetry of Fernando Pessoa by Giles Ramsay
Edinburgh – August 2004